Overview
Heel pain is usually focused on the underside or the back of your heel. If your pain is on the underside of your heel, its likely cause is plantar fasciitis. Pain on the back of your heel, where the Achilles tendon attaches to the heel bone, is Achilles tendinitis. Although heel pain is rarely a symptom of a serious condition, it can interfere with your normal activities, particularly exercise.
Causes
Heel pain is a common symptom that has many possible causes. Although heel pain sometimes is caused by a systemic (body-wide) illness, such as rheumatoid arthritis or gout, it usually is a local condition that affects only the foot. The most common local causes of heel pain include Plantar fasciitis. lantar fasciitis is a painful inflammation of the plantar fascia, a fibrous band of tissue on the sole of the foot that helps to support the arch. Plantar fasciitis occurs when the plantar fascia is overloaded or overstretched. This causes small tears in the fibers of the fascia, especially where the fascia meets the heel bone. Plantar fasciitis may develop in just about anyone but it is particularly common in the following groups of people: people with diabetes, obese people, pregnant women, runners, volleyball players, tennis players and people who participate in step aerobics or stair climbing. You also can trigger plantar fasciitis by pushing a large appliance or piece of furniture or by wearing worn out or poorly constructed shoes. In athletes, plantar fasciitis may follow a period of intense training, especially in runners who push themselves to run longer distances. People with flat feet have a higher risk of developing plantar fasciitis. Heel spur. heel spur is an abnormal growth of bone at the area where the plantar fascia attaches to the heel bone. It is caused by long-term strain on the plantar fascia and muscles of the foot, especially in obese people, runners or joggers. As in plantar fasciitis, shoes that are worn out, poorly fitting or poorly constructed can aggravate the problem. Heel spurs may not be the cause of heel pain even when seen on an X-ray. In fact, they may develop as a reaction to plantar fasciitis. Calcaneal apophysitis, n this condition, the center of the heel bone becomes irritated as a result of a new shoe or increased athletic activity. This pain occurs in the back of the heel, not the bottom. Calcaneal apophysitis is a fairly common cause of heel pain in active, growing children between the ages of 8 and 14. Although almost any boy or girl can be affected, children who participate in sports that require a lot of jumping have the highest risk of developing this condition. Bursitis. ursitis means inflammation of a bursa, a sac that lines many joints and allows tendons and muscles to move easily when the joint is moving. In the heel, bursitis may cause pain at the underside or back of the heel. In some cases, heel bursitis is related to structural problems of the foot that cause an abnormal gait (way of walking). In other cases, wearing shoes with poorly cushioned heels can trigger bursitis. Pump bump. his condition, medically known as posterior calcaneal exostosis, is an abnormal bony growth at the back of the heel. It is especially common in young women, in whom it is often related to long-term bursitis caused by pressure from pump shoes. Local bruises. ike other parts of the foot, the heel can be bumped and bruised accidentally. Typically, this happens as a "stone bruise," an impact injury caused by stepping on a sharp object while walking barefoot. Achilles tendonitis. n most cases, Achilles tendonitis (inflammation of the Achilles tendon) is triggered by overuse, especially by excessive jumping during sports. However, it also can be related to poorly fitting shoes if the upper back portion of a shoe digs into the Achilles tendon at the back of the heel. Less often, it is caused by an inflammatory illness, such as ankylosing spondylitis (also called axial spondylarthritis), reactive arthritis, gout or rheumatoid arthritis. Trapped nerve. ompression of a small nerve (a branch of the lateral plantar nerve) can cause pain, numbness or tingling in the heel area. In many cases, this nerve compression is related to a sprain, fracture or varicose (swollen) vein near the heel.
Symptoms
The symptoms of plantar fasciitis include pain along the inside edge of the heel near the arch of the foot. The pain is worse when weight is placed on the foot especially after a long period of rest or inactivity. This is usually most pronounced in the morning when the foot is first placed on the floor. This symptom called first-step pain is typical of plantar fasciitis. Prolonged standing can also increase the painful symptoms. It may feel better after activity but most patients report increased pain by the end of the day. Pressing on this part of the heel causes tenderness. Pulling the toes back toward the face can be very painful.
Diagnosis
To arrive at a diagnosis, the foot and ankle surgeon will obtain your medical history and examine your foot. Throughout this process the surgeon rules out all the possible causes for your heel pain other than plantar fasciitis. In addition, diagnostic imaging studies such as x-rays or other imaging modalities may be used to distinguish the different types of heel pain. Sometimes heel spurs are found in patients with plantar fasciitis, but these are rarely a source of pain. When they are present, the condition may be diagnosed as plantar fasciitis/heel spur syndrome.
Non Surgical Treatment
Anti-inflammatory medication. Heel stretching exercise. Ice application to painful area - twice a day or more, for 10 - 15 minutes. Rest. Supportive, well-fitting, padded shoes. Heel cup, felt pads or orthotics. Night splints - stretches injured fascia and allows healing. Basic treatment. First thing in the morning, before getting out of bed -- massage the bottom of the affected foot or feet for at least five minutes. Ensure that the plantar is stretched and warmed up so that overnight healing remains intact. Before stepping out of bed, be sure that you have soft, padded, supportive shoes or slippers to wear, especially if your flooring is hard, tile or uncarpeted flooring.
Surgical Treatment
Surgery is a last resort in the treatment of heel pain. Physicians have developed many procedures in the last 100 years to try to cure heel pain. Most procedures that are commonly used today focus on several areas, remove the bone spur (if one is present), release the plantar fascia (plantar fasciotomy), release pressure on the small nerves in the area. Usually the procedure is done through a small incision on the inside edge of the foot, although some surgeons now perform this type of surgery using an endoscope. An endoscope is a tiny TV camera that can be inserted into a joint or under the skin to allow the surgeon to see the structures involved in the surgery. By using the endoscope, a surgeon can complete the surgery with a smaller incision and presumably less damage to normal tissues. It is unclear whether an endoscopic procedure for this condition is better than the traditional small incision. Surgery usually involves identifying the area where the plantar fascia attaches to the heel and releasing the fascia partially from the bone. If a small spur is present this is removed. The small nerves that travel under the plantar fascia are identified and released from anything that seems to be causing pressure on the nerves. This surgery can usually be done on an outpatient basis. This means you can leave the hospital the same day.
heel pain in the morning
Prevention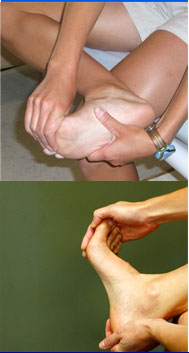 A variety of steps can be taken to avoid heel pain and accompanying afflictions. Wear shoes that fit well-front, back, and sides-and have shock-absorbent soles, rigid shanks, and supportive heel counters. Wear the proper shoes for each activity. Do not wear shoes with excessive wear on heels or soles. Prepare properly before exercising. Warm up and do stretching exercises before and after running. Pace yourself when you participate in athletic activities. Don?t underestimate your body's need for rest and good nutrition. If obese, lose weight.